Kids are done with showing and starting their lives, so up for sale is 2 bred cows. Both black.
Sammy - 3 year old is a Strictly Business bred to Naughty Pine for a April 7th calf.  She is registered with the Maine Anjou association, originally bought from Healy show cattle in Iowa.  Had a nice Johnny Walker Red calf this year.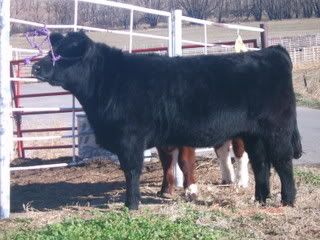 Chelsie - 2 year old out of a  Strictly Business  son, is registered as a percentage shorthorn. Orginally from  4B ranch in Nebraska. Bred to Naughty Pine for a April 7th calf. This cow has foundation breeding on her dam's side I have been told that those lines are highly sought after.  I will have to find the papers to tell you the breeding.  She had an extremely nice Dr. Who bull calf this year. She lets both calves(Sammys calf and her own) nurse off of her and has stayed in good condition even in the drought conditions here in Colorado.
Email for more information and price.