We are in the process of getting ready to "ship" our calves in early July.  This time of year, we start moving all of our cattle together in one big group.  Took some photos of some of our cows and calves this weekend.  They look pretty good right now with the all of the grass we've got this year.  These calves are all born in the fall and are about to be weaned.  Many are almost as big as their mothers.  We keep about 50-60% of our heifers as replacements, some of which we sell later after calving.  Just some photos of our critters.
General view of our "Big Tank Pasture" showing some of our cows.
1st calf heifer with steer calf.  The heifer is out of a Cunia son (Cunia x Foreplay's dam) and an Angus cow.  The steer calf is out of a purebred Maine bull we use on heifers.  We didn't weight him at birth, but he probably weighed less than 50 lbs.  When he'd lay down as a baby, he'd actually roll underneather our pipe fences and got out several times he was so small.  He's now actually a really good calf that is probably good enough to show.  Picture doesn't quite do him justice.  Cow bred back to a Lifeline son.
One of my Charolais-X 1st calf heifers.  Sired by a PB Charolais bull named Troy.  She is about as good as they come in my opinion.  We weaned her first bull calf and broke him out, but he didn't quite make the cut for son's first steer group.  She is bred back go Golden Child.
Paleface heifer calf out of a Full Form daughter (in background).  Got a couple of nice heifers out of Paleface last fall, but not much in the way of steers.  Cow bred back to Almost Famous.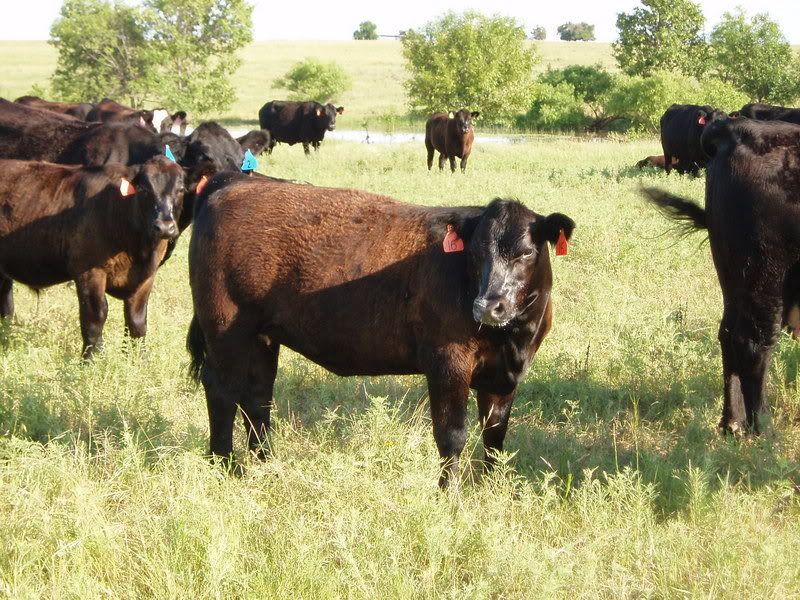 This one is out of a Shamrock son and a Meyer GD.  She's a good one in my opinion.  Note the milk around her face.  Her momma is ready to get rid of her. (Corrected caption)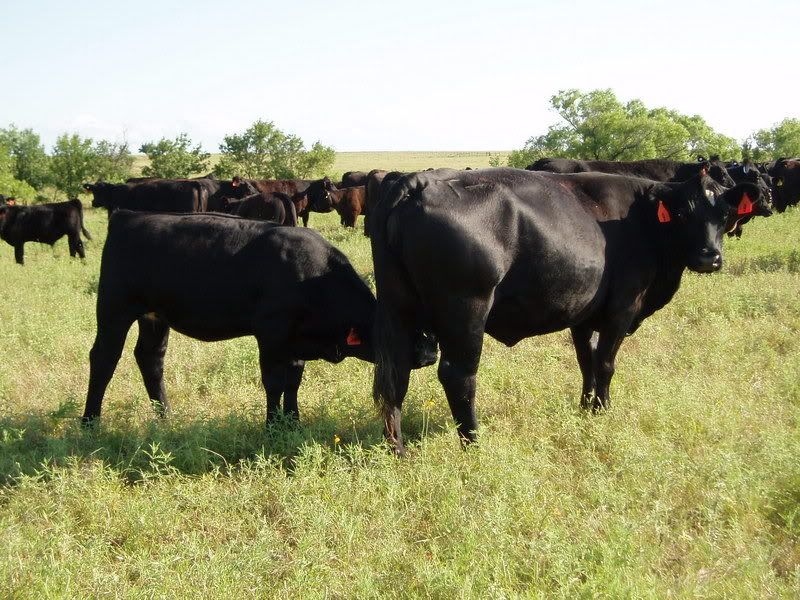 Another big heifer calf - out of a Shamrock son.
General view of some cows.  The white steer calf belongs to the 1st calf Charolais cow pictured above.  There is a baldy cow in the picture that is one of our best cows out of a Meyer son.  Has raised a couple of placing steers at Texas majors.