I'll get some more of these in the weeks ahead, but here are some babies from the fall crop so far.  Haven't managed to get some of our best black babies photographed yet, but grabbed a few yesterday morning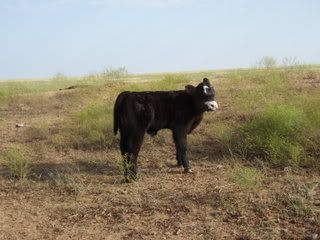 These two are of a pretty nice looking bull calf out of a Strictly Business son we own (out of a Kephart Angus cow) and a Meyer GD
I think this one is a Golden Child heifer.
A pretty stout looking Kadabra bull calf.
My first shorthorn-marked bull calf.  Out of Lights Out and a Troy Charolais-X cow.
I'm disappointed this one is a heifer.  Golden Child out of a Troy Charolais-X cow.  Ugly as all get out a day or two after birth but coming on nicely.
We had a bunch of Bold Statement and Almost Famous bull calves that I really like so far.  Haven't got pictures of them yet.  My best of the bunch may prove to be a Hard Core bull calf out of a baldface heifer my son showed last year.  He looks the part right now anyway.